We have decided to go ahead the 30th-31st of october!
Heads up! Swedish Nationals 2021 is arrangedby IPMS-Sweden in co-operation with C4-Open!
After what is soon to be one and a half year of pandemic, things are looking better by the day. Sweden opens up more or less fully in october.
Due to this we have decided to go ahead with this years venue 2021! As usual it is to be held the last weekend of October (30th-31st of October) and at our new location (400m from the old) at Kockum Fritid, Västra Varvsgatan 8 in Malmö, Sweden.
We will monitor the development of the pandemic during summer and adhere to recommendations from the Swedish governmental agency (Folkhälsomyndigheten). This means that our decision to go ahead with this years venue can be reversed at short notice. We kindly ask for your understanding should it come to this.
If all goes to plan we welcome you all to at much longed for and needed week end dedicated to our favorite hobby, modeling!
CU@C4
This year (2021) the theme class is "Long live the King" where everything Royal is welcome. Maybe King Tigers, King Fishers (birds and planes alike) Richard Lionheart, HMS Queen Elisabeth, Freddie Mercury, Matilda (Queen of the Desert) can be inspiration? His Majesty King Carl XVI Gustaf of Sweden celebrates his 75th birth day this year, which makes this years theme even more inspiring.
Soon it is once again time to open the doors to Scandinavia's friendliest scale modeling event: C4 Open – held in Malmo, Sweden. As usual, our goal is to offer our visitors a first class show/competition with a large quantity of modeling subjects on display, an extensive hobby market and many interesting club displays.
In addition, there will be inspiring lectures, a well-furnished prize table, and of course our social gathering on Saturday evening which many consider to be the highlight of the weekend with a perfect mix of socializing, discussions about modeling, food and drink.
We will also continue with our well received and popular activities like Special Interest Groups/SIGs, as well as trial model building for the next generation of modelers.
Below some information about our saturday evening activity: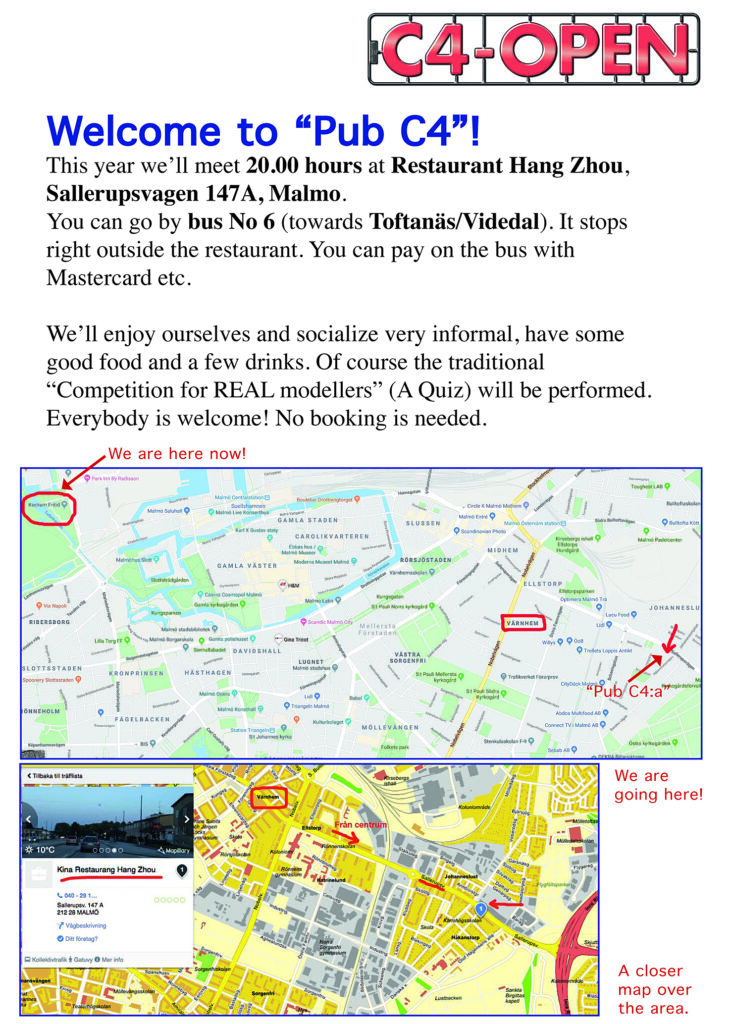 C4-OPEN was started in 1991 by the association Kristianstad Modellbyggare with Johan Nordh at the helm. The event was held with great success at the County Museum in Kristianstad. From the very beginning, they had taken help from the model building collective in Malmö. After three successful years in Kristianstad, the association felt that they could not really take it anymore. The event then moved down to Malmö and Malmö Technology and Maritime Museum. The event was held here until 2018, when the museum was temporarily closed for renovation and rebuilding. After a fantastic collaboration with the museum, which has been a very good partner throughout the years, it was time for something new.
From 2019, the C4-OPEN will be held at Kockums Fritid in Malmö, a leisure and conference facility not too far (400m) from the old premises. C4-open is the same event with exhibition and sales, but now with access to both restaurant and parking adjacent to our premises.
The event has changed and developed over the years. Both the competition part and the sales part have grown significantly. Other parts of the event are its SIGs (Special Interest Group) where models within a certain theme are exhibited outside the competition. Associations from Sweden and abroad are also usually on site and show up. The event today attracts visitors, vendors, associations and participants from several countries. C4-OPEN is known for its convivial atmosphere and professional execution.
Today, C4-OPEN is definitely one of the largest and most famous events for model builders in Scandinavia.
Welcome to Kockum Fritid in Malmö and to C4-OPEN!
Sponsors
Do you want to sponsor the C4 Open?
Get in touch with Erik Ahlström, who is responsible for the sponsorships of C4 Open.